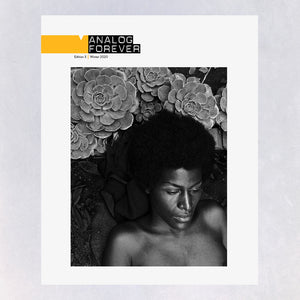 Analog Forever : Issue 3 WINTER 2020
Analog Forever Magazine, Edition 3 will embark readers on a photographic journey around the world through ten different artists' eyes. Through this publication, you will be transported from artists' private and commercial studios to both the 1979 Iranian Revolution and to the Mae Sot Thailand garbage dumps where more than 50 Mon and Karen refugee and immigrant families live. On your way, you will stop to gaze into the beautiful vast night skies captured on long exposures before you are rocketed to surreal otherworldly dreamscapes only found in science fiction. You will have the opportunity to explore the minds and collections of abstract, experimental, documentary, and landscape photographers that are as unique as they are brilliant.
FEATURING : Judy Dater, Gerry Yaum, Heidi Kirkpatrick, Lori Vrba, and David Burnett, Felicita Russo, Don Whitebread, Ky Lewis, Molly McCall, Noell Oszvald.
Founded in 2018, Analog Forever Magazine is an online and print publisher of contemporary analog photography. Our mission is simple: we want to provide a global audience to photographers who use analog processes and techniques for their photographic work by giving them a voice via a biannual print photography journal, online features and interviews, monthly online exhibitions, and a community calendar. Our goal is to highlight the best of the best from the analog industry including artists, projects, galleries, and curators.